Things to Do
When you arrive at our park please call in at Park Reception where you will find many brochures and leaflets on things to do and places to see.  Also, take a look at our 'Eating Out' noticeboard which displays information and menus on the numerous pubs and restaurants in the area which are definitely worth trying.  Don't forget to ask us for our recommendations!
Here are some ideas for you to think about.
For all the Family
Devil's Bridge Waterfalls is only half a mile away, these three bridges span a long history.
Vale of Rheidol Railway ride one of Britain's last steam trains from Devil's Bridge to Aberystwyth.
Bwlch Nant yr Arian Visitor Centre in a wonderful lakeside setting with red kite feeding, mountain biking or just enjoy the views (3 miles away).
Sarah's Chocolates at the Caban in Devil's Bridge (opposite the railway station).  Visit her workshop and see how her chocolates are made, you can also try a sample!
Silver Mountain Experience see what life was like in the mines with exhibitions, underground tours and hands-on activities (2 miles away).
The Magic of Life Butterfly House for free flying tropical butterflies at Cwmrheidol.
Beaches : Ynys Las, Borth and New Quay are all in the vicinity, the sand dunes at Ynys Las are definitely worth a visit!
Fantasy Farm with lamb feeding and milking demonstrations.
King Arthur's Labyrinth at Machynlleth, boat ride along an underground river.
Outdoor Activities : Walking
Hafod Estate is a beautiful estate with wild walkways and craggy rivers.
Bwlch Nant yr Arian Visitor Centre has a number of Waymarked walks, one suitable for disabled persons and prams.
Elan Valley Visitor Centre with its five reservoirs and spectacular scenery.
Ceredigion Coastal Path walks linking coastal villages along the Cardigan Bay coastline.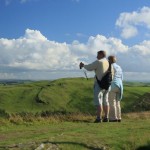 Outdoor Activities : Bird Watching
The star for bird-watchers in Mid Wales has to be the legendary Red Kite. It can often be spotted flying above the park istelf but you can also visit Bwlch Nant yr Arian Visitor Centre where you can watch the birds being fed. Ynys Hir Nature Reserve is also nearby at Machynlleth.
Outdoor Activities : Fishing
The local area provides a wide variety of angling experiences. These include river fishing on the rivers Rheidol and Ystwyth for salmon and sea trout and lake fishing for brown and rainbow trout. The Aberystwyth coastline offers some excellent sea fishing opportunities from the shore or on a chartered boat. To find out more about the fishing opportunities available to you please feel free to collect a copy of the booklet 'Angling in the Heart of Pumlumon' from Reception.
We have many fishermen who use the park as a basis for their fishing forays and find that the location of Erwbarfe to be perfect for access to some of the best fishing in Wales.
Outdoor Activities : Mountain Biking, Golf, Horse Riding
Bwlch Nant yr Arian Visitor Centre is very popular with mountain bikers.
Dyfi Mountain Biking off-road route from Machynlleth to Nant yr Arian.
Ystwyth Trail is a 34km scenic cycleway linking Aberystwyth with Tregaron.
Capel Bangor Golf and Country Club
Arts and Culture
Aberystwyth Arts Centre programme of live performances, exhibitions etc.
National Library of Wales is one of the world's great libraries and holds world's largest collection of works about Wales and other Celtic nations.
Strata Florida visit the peaceful ruins of Strata Florida Abbey, built in the 12th century.
Cwmrheidol Hydro Electric Scheme to see how reservoirs, dams and pipelines turn water into electricity at the Visitor Centre.
Corris Craft Centre is home to ten purpose built craft workshops, browse for gifts.
Eating Out
Hafod Arms Hotel local pub in Devil's Bridge with restaurant and bar meals.
The Woodlands Tea Rooms in Devil's Bridge, serving meals and snacks daily and also provides a takeaway service at weekends.
The Two-Hoots Cafe at the railway station in Devil's Bridge, also provides meals and snacks all day.
Y Ffarmers, Llanfihangel is a traditional village pub with a great repuation for food using boasts excellent food using local produce with well-kept beer.
George Borrow Hotel in Ponterwyd serves bar and restaurant meals.
Y Talbot in Tregaron is another traditional village pub which offers excellent food and a warm "croeso".
Tynllidiart Arms in Capel Bangor, home of the world's smallest brewery!
Y Maes Bangor Arms also in Capel Bangor, has recently been modernised.
Pennau Crafts and Coffee Shop in Bow Street.
Gwesty Cymru is on the seafront in Aberystwyth and is ideal if you want something extra special!
Harbourmaster is the harbourside restaurant in Aberaeron, well worth a visit and only 40mins away